Photoshop Express Beta disponible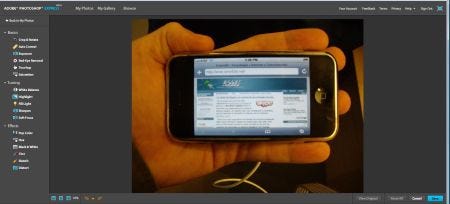 Ya está disponible la beta de Photoshop Express, el muy esperado servicio de edición de imágenes online de Adobe. A primera vista, en Photoshop Express nos encontramos con un sitio construido enteramente en Flash 9 - otra cosa no era de esperar - gratuito y con dos gigas de almacenamiento para imágenes. integración con Facebook, Picassa y Photobucket (nada de Flickr, aunque está en sus planes) y unas opciones para mostrar galerías bastante potentes visualmente.
Obviamente Photoshop Express es algo muy alejado de las prestaciones que la marca "Photoshop" nos tiene acostumbrados. De hecho juega en la liga de Picnik y otros editores de imágenes online: cortar, rotar, redimensionar, ojos rojos y algunos retoque muy básicos (aunque las opciones de auto corrección son bastante interesantes).
Sin embargo, Photoshop Express no es sólo un editor de imágenes, quiere ser también sitio para almacenar y compartir (los dos gigas, el poder embeber imágenes, envío por correo, mostrar galerías...) ¿Qué cabe esperar en el futuro? Pues probablemente a su crecimiento como software (opciones más potentes de edición), pero también una más que probable integración con las herramientas de escritorio. De momento, la primera versión de Photoshop Express, de notable.
Actualización: como destaca Webware, merece la pena detenerse en las condiciones del sitio antes de utilizarlo:
Adobe does not claim ownership of Your Content. However, with respect to Your Content that you submit or make available for inclusion on publicly accessible areas of the Services, you grant Adobe a worldwide, royalty-free, nonexclusive, perpetual, irrevocable, and fully sublicensable license to use, distribute, derive revenue or other remuneration from, reproduce, modify, adapt, publish, translate, publicly perform and publicly display such Content (in whole or in part) and to incorporate such Content into other Materials or works in any format or medium now known or later developed
Sitio oficial, Photoshop Express, más información en Xataka Foto.