Humble Origin Bundle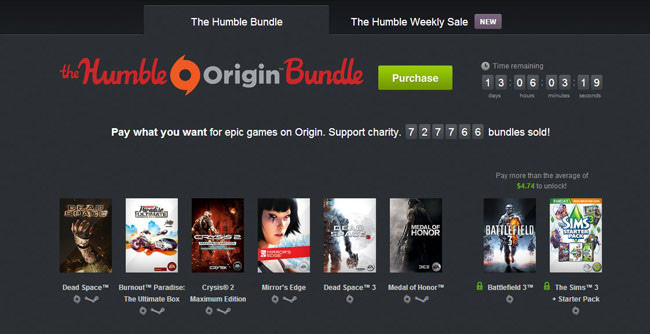 Gran jugada de Electronic Arts con la promoción que han sacado con Humble Bundle siguiendo el modelo habitual de éstos: ofrecen alguno de sus mejores juegos de los últimos años al precio que el cliente quiera, dedicando esos ingresos a ONGs.
Pagando desde un dólar uno se queda con juegazos como Mirror's Edge o Medal of Honor, si uno se estira algo más - hay que pagar más de cinco dólares - consigue The Sims 3 y Battlefield 3.
Además de la campaña de imagen está el interés de EA de empujar su plataforma para compra de juegos online Origin con la que intentan contrarrestar el liderazgo y dominio del sector que está tomando Steam en los últimos años. Conmigo de momento lo han conseguido, Origin instalándose aunque no se de donde voy a sacar tiempo para jugar los ocho juegos que acabo de comprar en el Humble Origin Bundle.