Google Translation Center, traducción a lo "turco mecánico"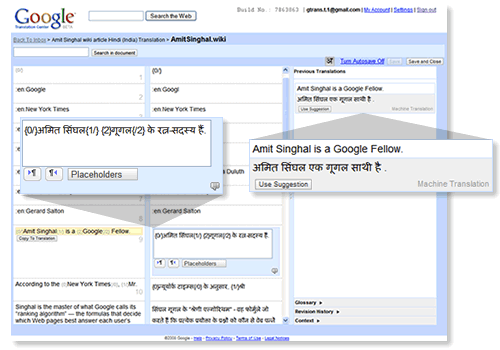 Google Translation Center es un nuevo "futuro" servicio de Google que ha descubierto Phillips Jensen. Algunas de sus páginas ya están disponibles, por lo que es posible echar un vistazo a la FAQ, por ejemplo. Básicamente, Google Translation Center será una plataforma para quienes necesitan un traductor - que enviaran su contenido - y traductores y revisores, que realizarán la traducción del mismo. La diferencia con el actual Google Translate, por tanto, estriba en que en el nuevo servicio la traducción la harán personas - al estilo "turco mecánico" - y no un sistema automático. Cada traductor podrá ser evaluado, con lo que se creará un sistema de prestigio dentro del servicio.
Un punto interesante será que Google Translation Center permitirá que haya traductores voluntarios y otros que cobren por su trabajo. Lo lógico sería pensar en que de nuevo Google busca ingresos al margen de la publicidad, pero en los términos y condiciones apuntan a lo contrario:
Your interaction with any third party participant(s) or user(s) within Google Translation Center, including payment and delivery of goods and services, and any other terms, conditions, warranties or representations associated with such dealings, are solely between you and such third party participant(s) or user(s) and Google is not involved in such dealings
Aunque habrá que esperar a que la versión "oficial" vea la luz, sorprende que no aprovechen este tipo de plataforma para diversificar ingresos y empujar de paso su apagado Google Checkout. Las conjeturas acerca del modelo y la justificación del proyecto pueden ser muy diversas: información para mejorar su sistema de traducción automática, poner a disposición de todo el mundo algo que ya utilizaban internamente y "ya se verá como hacer negocio"... después de todo, les ha ido muy bien con el programa Google in your language.